The Director of Tennis Operations, Assitant Pros, Coaches and Court Monitors are here to serve the members and enhance your Kew Gardens experience! Please introduce yourself to staff on duty.
We would like to welcome back Ira Sherman as our Director of Tennis Operations (DTO's). This expanded role aims to create an integrated approach which connects both the clubs programming and management divisions with the goal of an improved member experience. Ira Sherman will continue to operate as the Head Tennis Professionals by leading, organizing and managing all adult and junior programming, as well as leading and managing the day to day operations of the club.
Ira looks forward to providing excellent service standards in all areas to achieve high satisfaction for the Kew Gardens Tennis Club membership.
DIRECTOR OF TENNIS OPERATIONS - IRA SHERMAN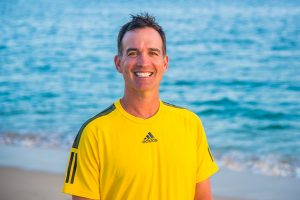 Ira Sherman is the Director of Tennis Operations (DTO) at Kew Gardens Tennis Club.
Growing up in Toronto Ira trained as a junior at the All Canadian Tennis Academy. With over two decades of teaching experience, he has travelled the world as a teaching pro in California, Australia, Mexico, Thailand, and the Caribbean working at a variety of clubs and resorts. Ira is a certified Club Pro 3, which is Tennis Canada's highest certification in the club professional stream.
Ira is the co-founder of Progressive Tennis League (PTL). PTL is an innovative organization that focuses on offering quality tennis programming during the indoor season for children across the GTA. PTL has collaborated with Tennis Canada and the Ontario Tennis Association with various grassroots initiatives, building communities around the sport of tennis.
Ira has also combined his love of travel with tennis by offering exciting tennis retreats for adults during the winter season through his company First Serve Travel. Ira has coached all levels and abilities. He has great passion and enthusiasm for the game and brings out the best in his players.
Ira's style of teaching uses a Game-Based Approach, which encompasses all aspects of the game: technical, tactical, physical, & psychological.
Ira looks forward to sharing his knowledge and expertise with all KGTC members for the 2023 season. He will be offering a wide range of programming for both juniors and adults at all levels.
Email - ira.sherman@kewgardenstennis.ca
Phone - (647) 700-8306
ASSISTANT TENNIS PROFESSIONAL - LORENZO GRECCHI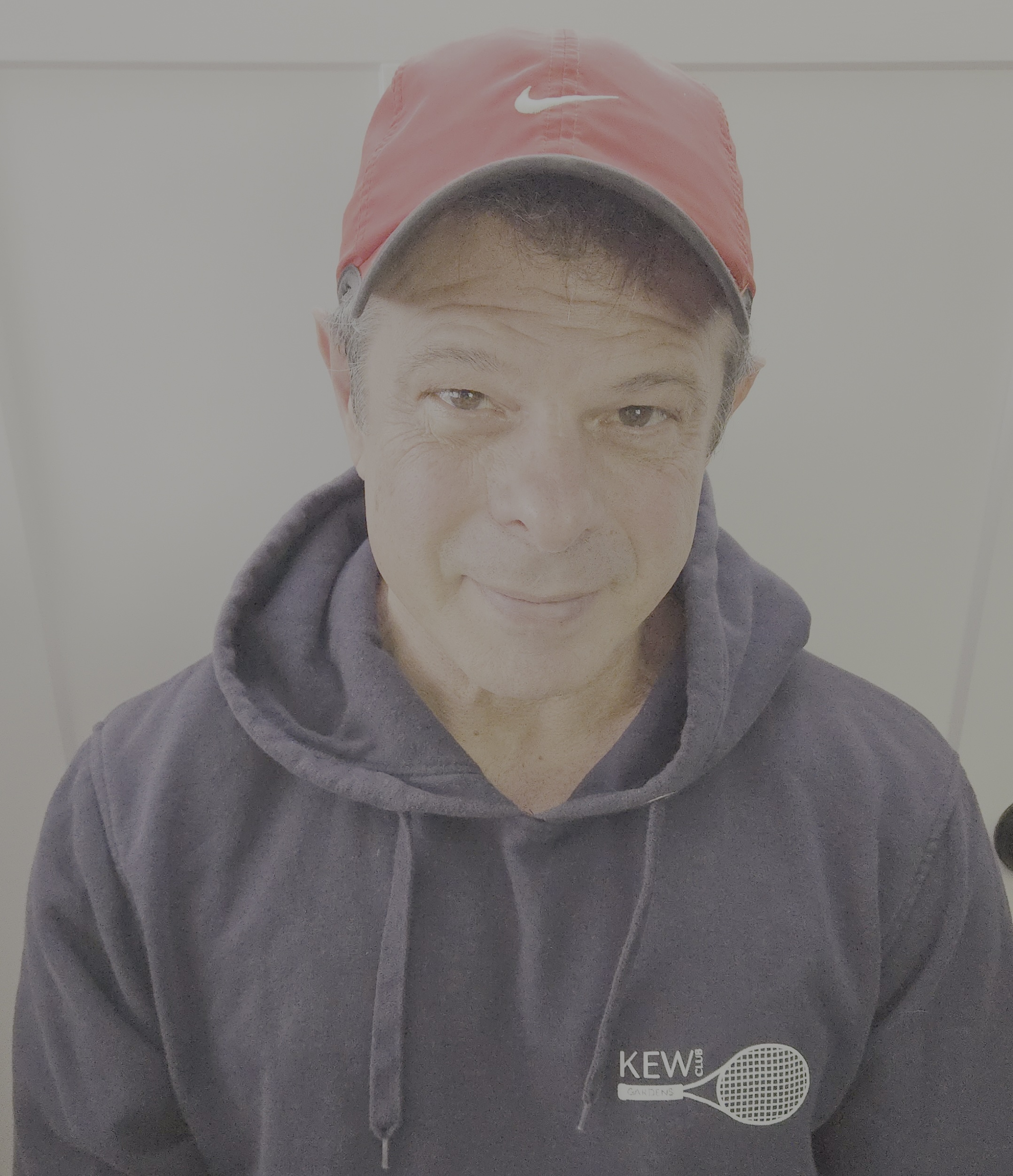 Lorenzo was born in Venice Italy and grew up in Toronto. He is a Tennis Canada Certified Instructor. He began teaching in 1991 and has worked in seveal tennis facilities including Eglinton Flats Tennis Club, Pine Point Tennis Club, Cutten Fields Country Club and Columbus Centre Tennis Club. In thewinter months, you can find Lorenzo working out of the North York Tennis Club. This will be Lorenzo's 6th season as part of the Kew Gardens Tennis Club coaching team. Lorenzo has worked with both recreational and high performance juniors. He has helped motivate many young players to grow and develop not only as players, but also as people. Lorenzo's love of tennis remains strong and can be seen regularly on court sharing his passion with many of our club members. Lorenzo looks forward to help all members at any level in any aspect of their game. Feel free to contact him for both lessons or equipment needs
Email - lorenzo.grecchi@kewgardenstennis.ca
Phone- (647) 868 5309
ASSISTANT TENNIS PROFESSIONAL - MIKE KOSOWSKI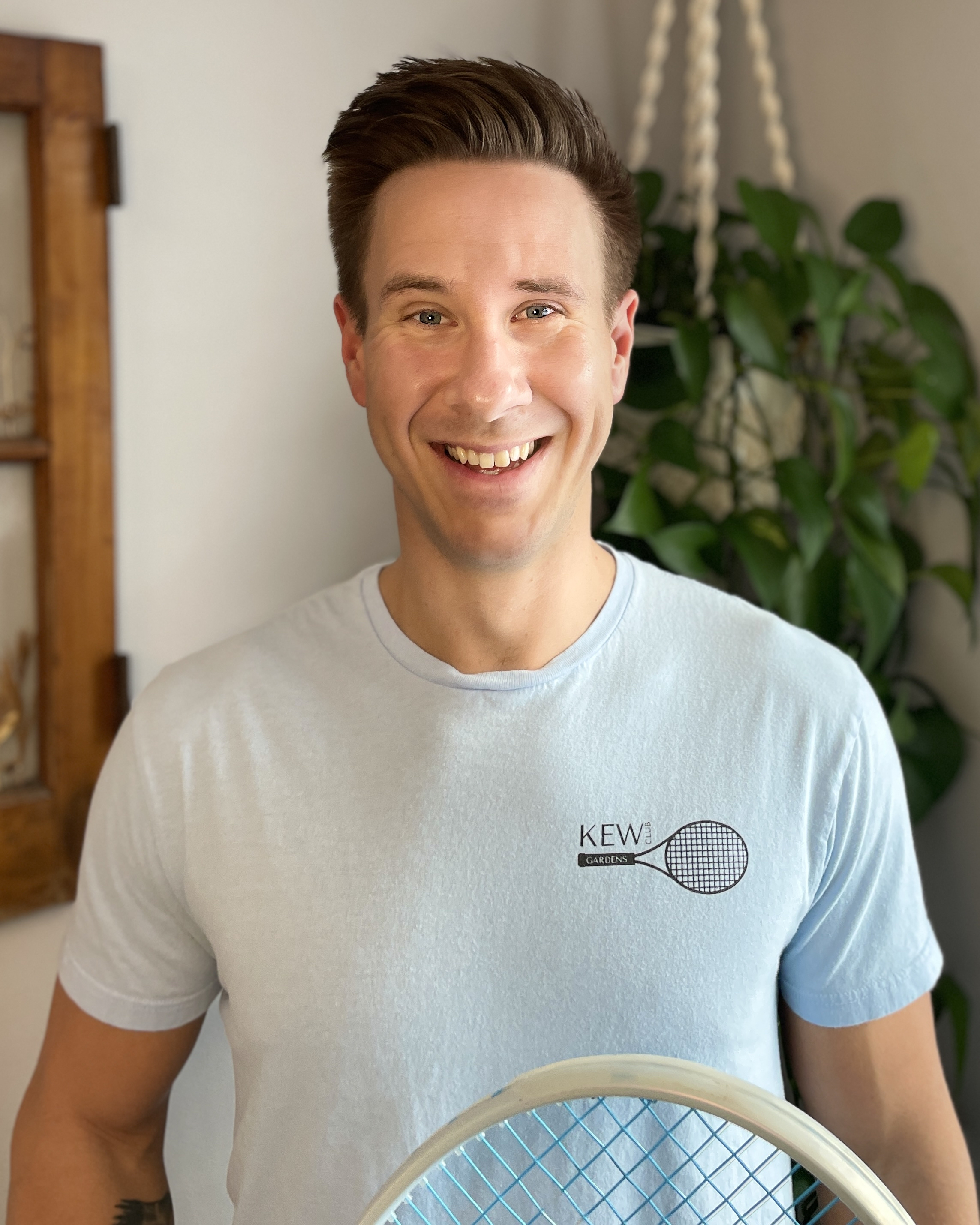 Mike is returning for his second season at Kew. Mike is seasoned player and instructor with an educational background in Pedagogy and over 18 years of teaching experience. He is a certified Club Pro 1 through the Tennis Canada Club Pro stream.
Mike holds a passion for sharing knowledge and enjoys to promote all aspects of the learning progression: building a player's foundation from the ground up, helping players at all levels take their game to the next level and working on the finer aspects of a competitive athletes' skill set to further their success both on and off the court. Mike is an advocate of balancing energy, effort and empathy throughout each session and employs various instruction methods to accommodate a player's learning style. He offers video analysis services to illustrate concepts and comparisons that can help every applied student build confidence, win more matches and play much better tennis.
If you would like to book Mike for a lesson, hitting session or stroke analysis consultation, feel free to contact him:
Email - mike.kosowski@kewgardenstennis.ca.
Phone - (416) 876-3449
ASSISTANT TENNIS PROFESSIONAL - COURTNEY WINTER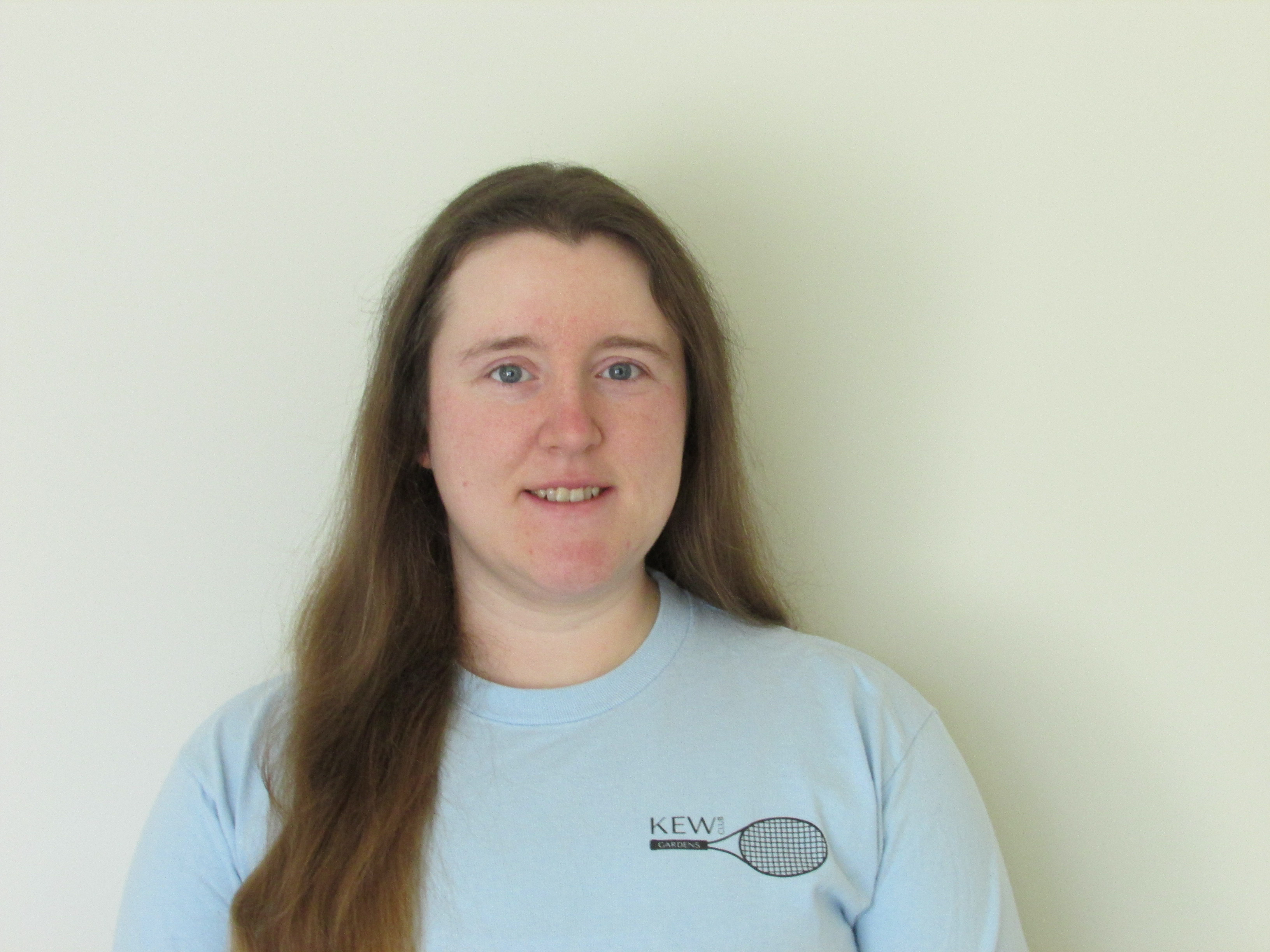 Courtney has grown up in the Beach and has been a long-time Kew player. This will be Courtney's 5th season teaching at Kew. She is coming in this season in an elevated capacity as our Junior Program Coordinator, along with managing some of our adult programming. This year she will also be coaching the Kew Junior Teams. Prior to working at Kew she taught at tennis camps for 4 years, played varsity tennis for the University of Waterloo and was a co-captain of the team in 2012. She is a Tennis Canada Certified Instructor.
Courtney is passionate about building a love of tennis and supporting tennis as a sport for life. She is experienced in teaching juniors of all levels and abilities. She is excited to instruct a breadth of beginner to intermediate adult members looking to build upon fundamentals, grow your game play and improve your serve.
If you would like to book a lesson with Courtney, feel free to contact her:
Email – courtney.winter@kewgardenstennis.ca
Phone – 416-525-6243
ASSISTANT TENNIS PROFESSIONAL - BRIGITTE GRAVELLE
Brigitte has been playing tennis since she was 5 and started playing competitively and doing high performance at 11 years old. Brigitte has been teaching for 2 years now, and this is her first season at Kew. Brigitte really enjoys coaching juniors because she wants to help every kid reach their potential and improve every day. She also wants to encourage kids to enjoy the sports and to play with their friends and family, because it is a sport for life. Brigitte is keen on helping juniors improve their strokes and technique as well as their footwork and tactics on court.
Email – brigitte.gravelle@kewgardenstennis.ca
Phone – (416) 647-208-1933.
---
Club Monitors
ESSAYAS DEBESSAY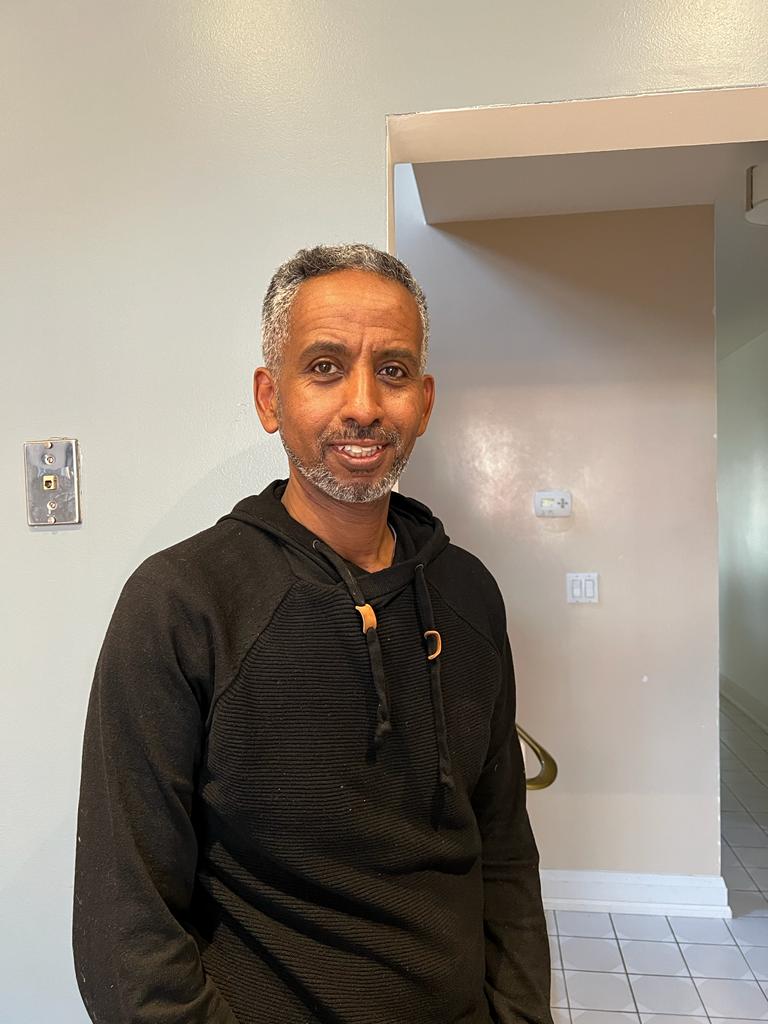 Meet Essayas Debessay who comes from Ethiopia. Essayas came to Canada after residing in Italy for 10 years, where he learned to speak Italian and developed a love for food and naps in the afternoon! Prior to joining Kew, Essayas worked in the hospitality industry for over 20 years. He loves all sports, but is not the best at playing tennis, however we love him anyway;)
Essayas will be returning to Kew Gardens Tennis Club for his second season.
ETHAN DOOLAN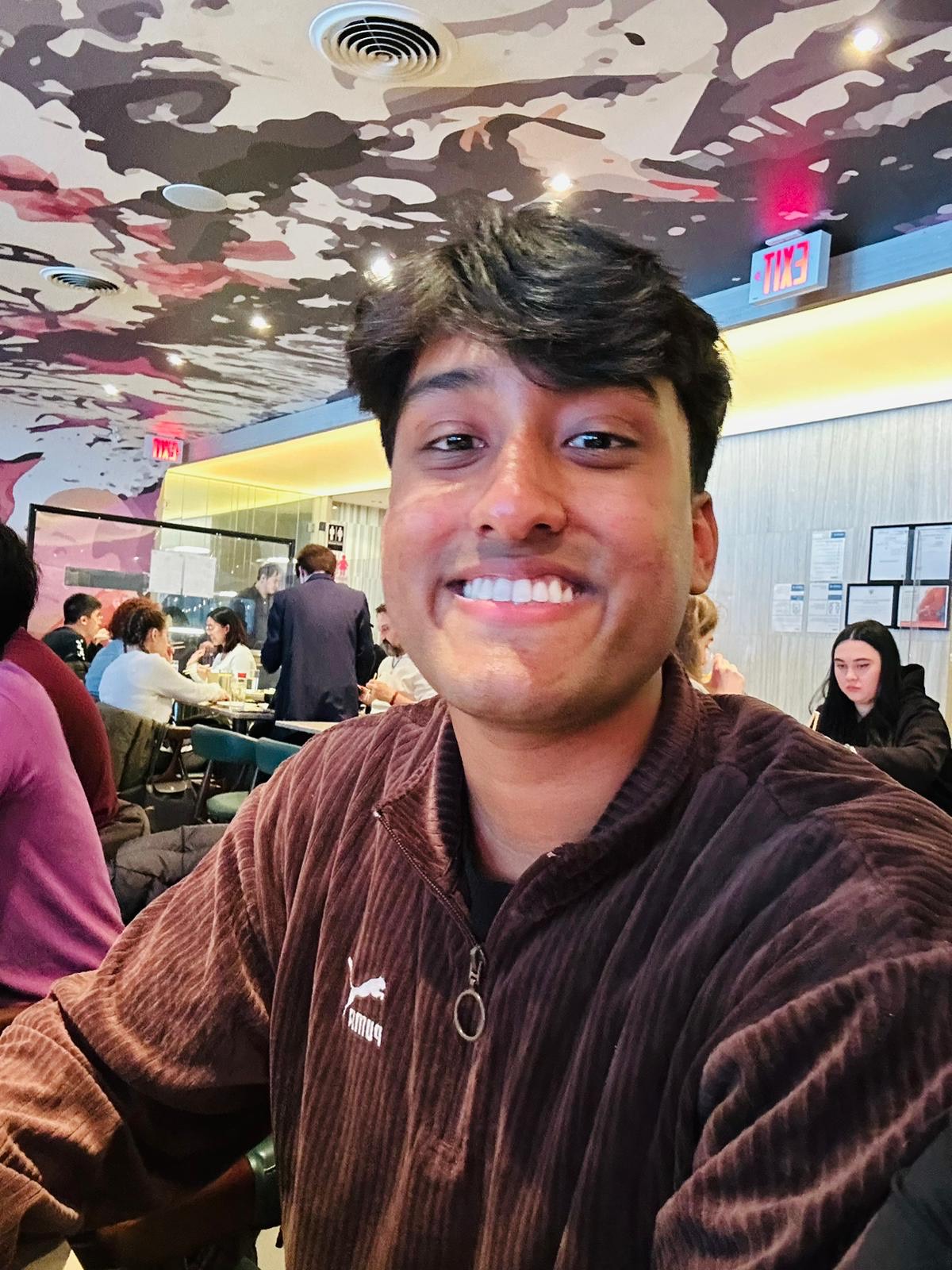 Ethan is back for his second season at Kew Gardens Tennis club, ready to welcome everyone back for the exciting season to come! He is a current Bachelors student attending International Economics and finance at Toronto Metropolitan University, who's enthusiastic to chat and learn about anything within the world of money and tech. Being a former competitive swimmer and wrestler, he not only enjoys the game of tennis but appreciates the physical and mental requirements players need to excel. In his free time he enjoys the city's nightlife, camping, watersport, and working out!
KEN GRUBER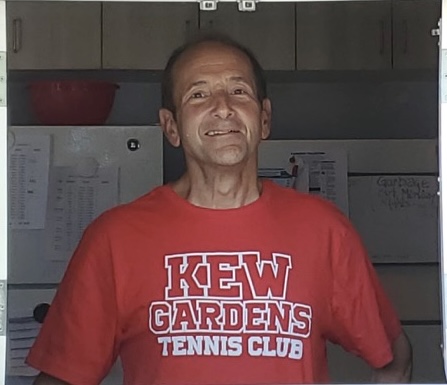 After moving to Canada from the US over half his lifetime ago, Ken devoted himself to promoting Toronto to the world, as Director of Advertising & Promotions for Tourism Toronto and Marketing Director for The (Delta) Chelsea Hotel. Now "living life on his own terms", besides playing and working tennis, Ken juggles his time reading, writing, biking and following jam bands!
MARY GOW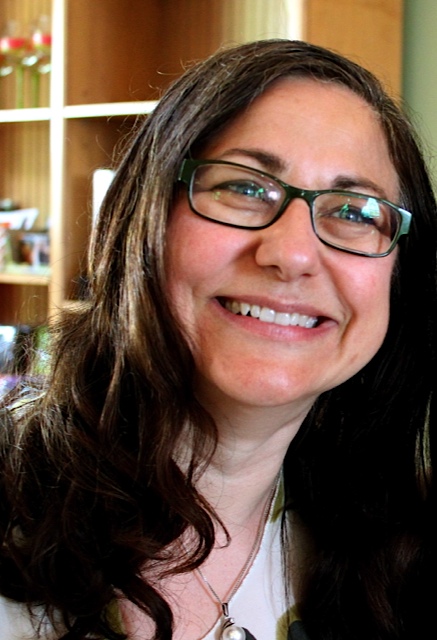 Mary has lived in the Beaches neighbourhood for more than 25 years. She was thrilled when she was able to join the club last year which conveniently coincided with her decision to semi-retire as an educator. She is enjoying having more time to spend with family and friends over a meal with good music and wine, reading, and watching movies. She is looking forward to developing her skills on the court as well as joining the wonderful staff to serve the members of KGTC.
JANICE MCDONALD
Janice is recently retired, and is excited about taking on the Monitor role at Kew. She is looking forward to getting to know everyone and helping out as needed to ensure everyone has a great 2023 tennis season at Kew.